Adult Systems Orientation Recording: Services Available & Access
---
Adult Mental Health
Child and Adolescent Mental Health
---
Adult Mental Health
Who We Are
Adult Mental Health is an administrative office within the Delaware County Department of Human Services.
What We Do
The Adult Mental Health division assures appropriate services are available for individuals who experience mental health challenges.
Services We Provide
We contract with agencies who provide an array of services and resources which are focused on the principles of recovery, resiliency, and self-determination.
A few of the many services offered are:
Psychiatric Rehabilitation
Outpatient Treatment
Case Management
Residential Support Services
Acute Inpatient Treatment
Crisis and Peer Support Services.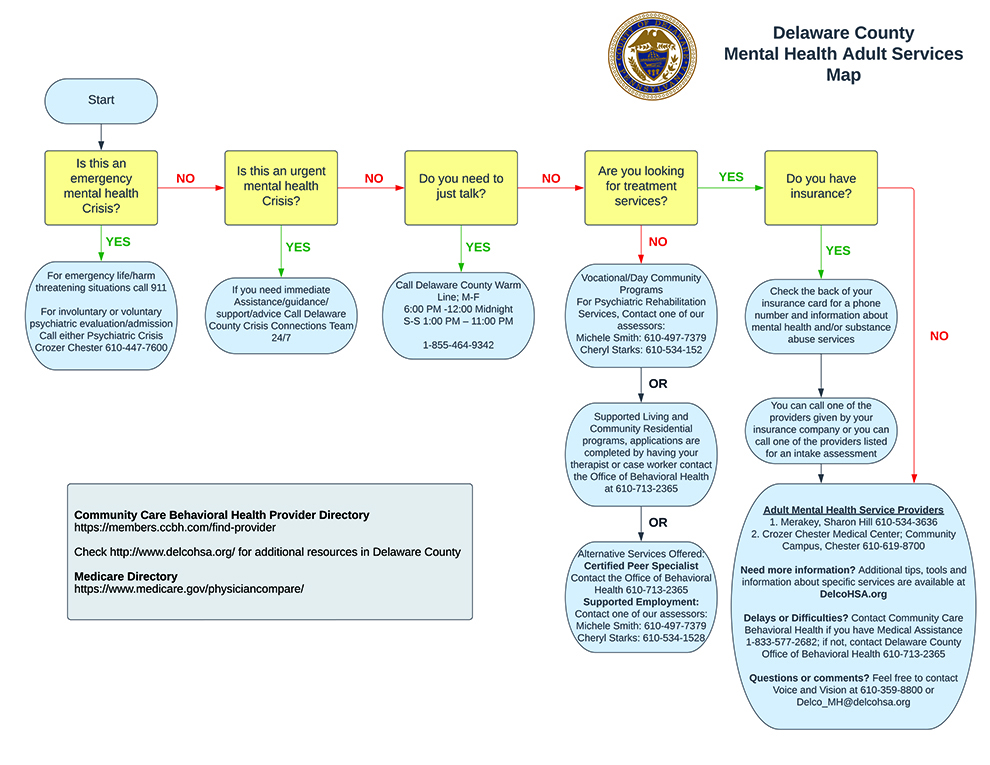 How To Make A Referral
As an administrative office, services are provided by various community provider agencies and programs. For more information on services that are available, you may contact our office between 8:30 AM and 4:30 PM Monday through Friday at: 610-713-2365 or via email at HumanServices@DelcoHSA.org.
For individuals with Medical Assistance insurance, please contact:
Community Care Behavioral Health
Delaware County Member Services: 1-833-577-2682
En español: 1-866-229-3187
TTY/TDD: (Dial 711) Request 1-833-545-9191
Website: https://www.ccbh.com/
Individuals may also contact one of our two Base Service Units for direct intake during normal business hours:
Merakey
800 Chester Pike
Sharon Hill, PA 19079
610-534-3636
Crozer-Chester Medical Center
301 W. 15th Street
Chester, PA 19013
610-619-8700
For 24 hour, crisis services and support:
Delaware County Crisis Connections Team: 1-855-889-7827
Peer Support Warm Line: 1-855-464-9342
Crozer-Chester Crisis Center:
1 Medical Center Blvd
Chester, PA 19013
610-447-7600
---
Child and Adolescent Mental Health
Who We Are
Child and Adolescent Mental Health functions as an administrative unit which is responsible for the oversight of publicly funded mental health services for the youth and families residing in Delaware County.
What We Do
Child and Adolescent Mental Health collaborates with a Managed Care Organization to contract with local licensed mental health programs. In partnership with the Managed Care Organization, we provide oversite and support to these mental health programs in their efforts to engage individuals and families in safe and clinically prescribed mental health treatment and supportive services.
Services We Provide
Outpatient individual, group, and family therapy
Community-based services
In-home based services
School-based services
Residential based treatment
Partial hospitalization
Mobile crisis
Crisis center
Inpatient hospitalization
Mental Health Office of the Department of Human Services also funds multiple supportive services including:
High Fidelity Wraparound
Transitional Age Youth Certified Peer Specialists
Short term respite services
Blended and Transitional Age Case Managers
Services and resources provided reflect Delaware County System of Care principles, recovery, resilience, and self-determination. Our goal is to ensure access to high quality mental health services and supports and help develop programs to fill any gaps in these services.
Adolescent Mental Health Services Map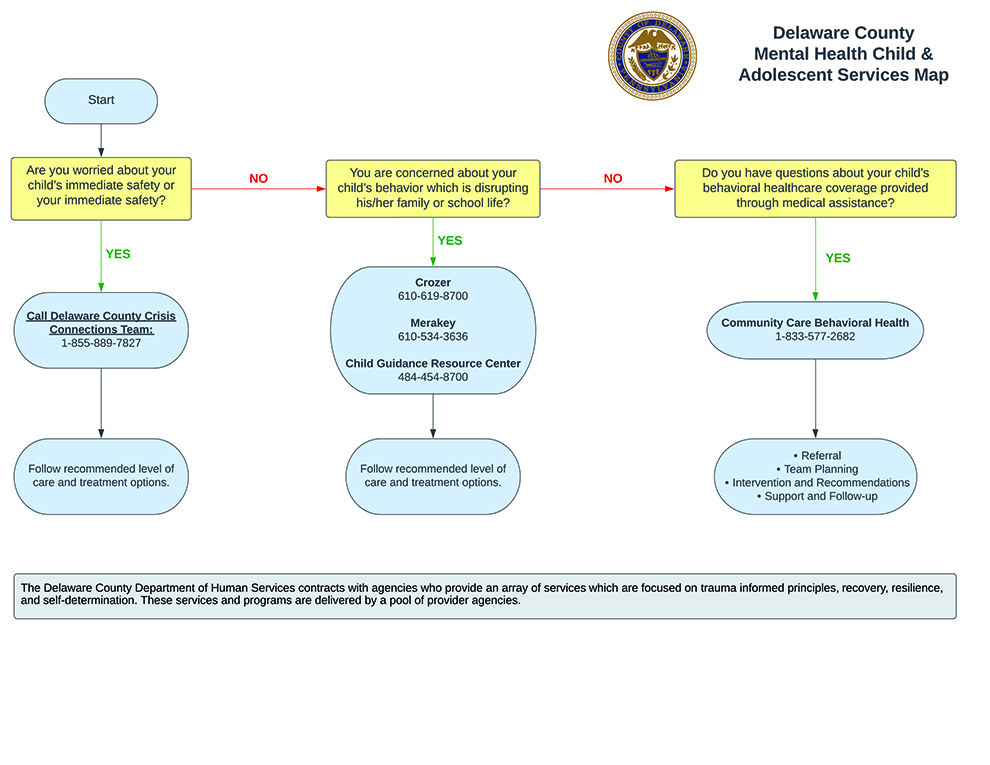 24/7 crisis services and support
Delaware County Crisis Connections Team: (855) 889-7827
PA Crisis Text Line – Text "PA" to 741741
Crozer-Chester Crisis Center
1 Medical Center Blvd
Upland, PA 19013
For questions on how to access our mental health services please see below
Child and Adolescent Mental Health and Drug and Alcohol Directory
Community Care Behavioral Health
Delaware County Member Services: 1-833-577-2682
En español: 1-866-229-3187
TTY/TDD: (Dial 711) Request 1-833-545-9191
Website: https://www.ccbh.com/
Individuals may also contact one of our two Base Service Units for direct intake during normal business hours:
Merakey
800 Chester Pike
Sharon Hill, PA 19079
610-534-3636
Crozer Community Campus
301 W. 15th Street
Chester, PA 19013
610-619-8700
Child and Adolescent Mental Health
20 South 69th Street, 3rd Floor
Upper Darby, PA 19082
610-713-2365
Email humanservices@delcohsa.org