Who We Are
The Early Learning Resource Center Region 15 (ELRC) provides a single point-of-contact for families, early learning service providers, and communities to gain information and access services that support high-quality childcare and early learning programs. We offer an enhanced resource and referral system, childcare subsidies and early childhood educators supports. The Federal and State funding for this program is provided through a contract with the Pennsylvania Department of Human Services (PADHS) Office of Child Development and Early Learning (OCDEL).
What We Do
The Early Learning Resource Center Region 15 (ELRC) provides childcare subsidy to eligible families. This is a parent choice system. Parents may choose any licensed, regulated, or relative provider who signs an agreement for funding through this agency and complies with State laws and regulations. The Early Learning Resource Center Region 15 (ELRC) may not make recommendations regarding selection of a childcare provider. Early Learning Resource Center Region 15 (ELRC) resource and referral staff can offer parents and caregivers a variety of resource information to local agencies, government programs, services, and childcare providers.
Resources are provided to parents/caretakers to assist in the selection of a quality care provider for their child/children. Early Learning Resource Centers are a trusted source to families looking for childcare, Early Head Start, Head Start, or preschool programs. Your child's participation in a quality program will prepare your child for success in school and life.
Here are things to look for:
Is this person or program a safe place for children?
Do they meet the necessary regulations?
Have there been any complaints against them?
Pennsylvania Department of Human Services regulates childcare programs (family childcare homes, group child care homes and child care centers) to make sure they meet minimum health and safety standards.
Programs are required to post their certificate of registration or compliance, so if you don't see it, ask about it.
Does the childcare or Head Start program participate in Keystone STARS?
Do teachers have training in early childhood education? Teachers in quality programs have education in child development, such as a Child Development Associate (CDA), Associate's or bachelor's degree.
Does the program provide activities appropriate for your child's age and development? Teachers should observe your child's skill level and provide activities that will help your child grow.
Does the program keep families involved in their child's progress? Quality programs will talk with you about how your child is learning and suggest ways you can help your child learn at home.
Are the children happy and involved? Learning should be fun!
As you search for quality childcare, reach for Keystone STARS. Keystone STARS helps you know what to expect when picking a program. Childcare programs that participate in Keystone STARS meet standards for teacher quality, classroom and learning activities, working with you to support your child, and managing their program. Programs can earn from one to four Stars. The higher the STAR level, the higher the quality.
For more information and to find a Keystone STARS program near you, visit Compass or www.papromiseforchildren.com and http://raiseyourstar.org.

Philadelphia Health Management Corporation (PHMC) in collaboration with the Delaware County Department of Human Services for Early Learning Resource Center 15 (ELRC 15) will provide services typically part of Keystone STARS supports, including quality coaching and support in processing grants.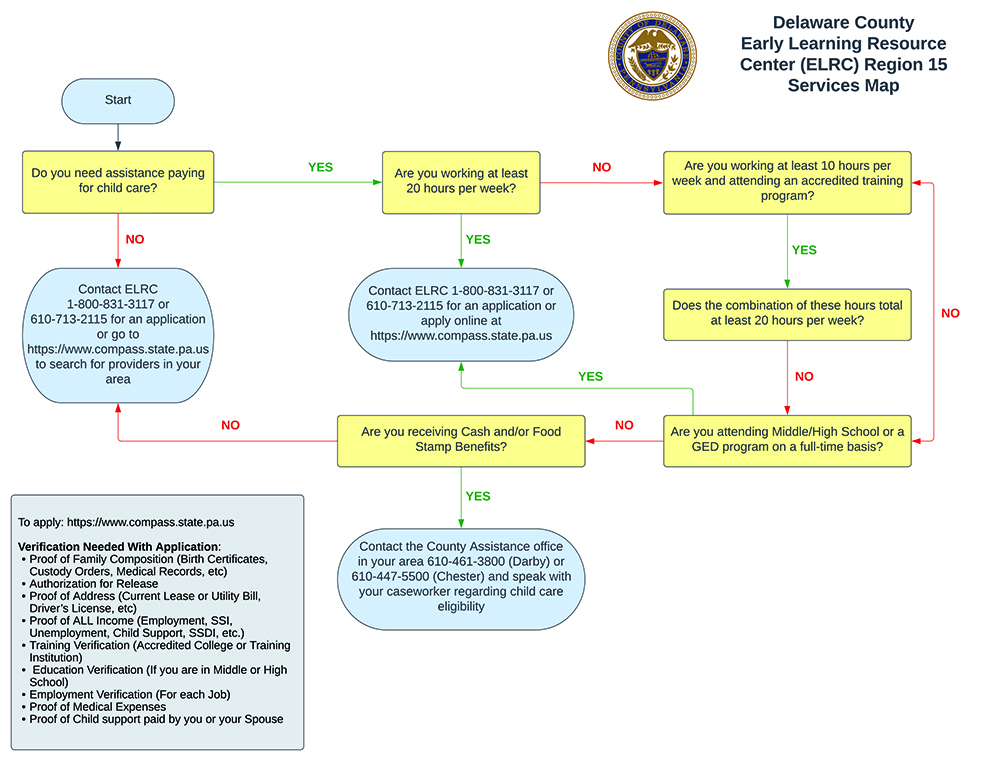 How to apply
Submit an application to the Early Learning Resource Center Region 15 (ELRC) to see if you meet the guidelines for the subsidized child care program.
The following are the basic guidelines:
You must live in Pennsylvania
Have a child or children who need childcare while you work or attend an education program
Meet income guidelines for your family size
Work 20 or more hours a week - or-
Work 10 hours and go to school or train for 10 hours a week
Have a promise of a job that will start within 30 days of your application for subsidized childcare
Teen parents must attend an education program
The child who needs care must be a citizen of the United States or an alien lawfully admitted for permanent residency
Have proof of identification for each parent or caretaker in the home.
Income Guidelines
The annual income for a family to be eligible to receive a subsidy if 200 percent or less of the Federal Poverty Income Guidelines:
| | |
| --- | --- |
| Family Size | Yearly Maximum Family Income (May 2022) |
| 2 | $36,620 |
| 3 | $46,060 |
| 4 | $55,500 |
| 5 | $64,940 |
| 6 | $74,380 |
| 7 | $83,820 |
| 8 | $93,260 |
| 9 | $102,700 |
| 10 | $112,140 |
Information on childcare facilities
You may contact us for resource and referral services. We can assist you in finding a facility that meets your needs. You can also find a listing of regulated child care providers through the Online Child Care Provider Search. To request information regarding a facility's certification or registration history, current certification status, and verified complaint history you may contact the Regional Child Development Office or review a facility's history online.
Apply online at
https://www.compass.state.pa.us/compass.web/CMHOM.aspx
Printable Applications to be mailed or faxed:
Application for Subsidized Child Care in PDF format
Application for Subsidized Child Care in PDF format (Spanish)
Employment Verification (Spanish)
Mail or fax application to:
Delaware County Department of Human Services
Early Learning Resource Center Region 15
20 South 69th Street
Fourth Floor
Upper Darby, PA 19082
Fax: 610-713-2233/2333
Resources and Helpful Links
Monthly Provider Newsletter
View Latest Newsletter
Provider Self-Service Page
www.pelican.state.pa.us/provider
Pennsylvania Pre-K Counts
http://www.pakeys.org/pages/get.aspx?page=Programs_PreKCounts
Delaware County Head Start Programs
http://www.dciu.org/Page/689
The PA Department of Education
http://www.education.pa.gov/
The PA Department of Human Services
http://dhs.pa.gov/
The PA Key
http://www.pakeys.org/
Early Intervention Technical Assistance
http://www.eita-pa.org/
The Professional Development (PD) Registry
https://papdregistry.org/
Early Learning GPS
http://www.earlylearninggps.com/
The Early Learning GPS is an interactive online tool where families answer up to 10 questions for great tips and reliable resources on helping their child learn and grow. Create a free map for your child to follow his milestones, save fun activities that will help him learn and grow, and compare childcare programs. All information is from reliable sources like PA's Office of Child Development and Early Learning.